Investment Considerations
CISO Global shares were listed on the Nasdaq in the first quarter of 2022.
The company joined the broad-market Russell 2000 Index in June 2022.
CISO Global posted a 376% revenue CAGR for the years 2019 through 2021.
In 2021, 58% of the company's revenue was recurring revenue from managed services contracts.
CISO Global has completed 12 strategic acquisitions since October 2019.
The global managed security services market was valued at $22.45 billion in 2020 and is projected to reach $77.01 billion by 2030, growing at a CAGR of 12.8% through the forecast period.
CISO Global, Inc. (NASDAQ: CISO) is an industry leader in cybersecurity and compliance services. The company leverages an integrated approach to reduce noise and bridge common silos that often limit the effectiveness of cybersecurity programs. Pulling disparate technologies, teams, and vendors together, CISO helps its clients enjoy a simpler and more successful journey to cyber resilience. Since 2019, CISO Global has worked to rapidly expand by acquiring world-class cybersecurity and compliance businesses with top-tier talent who utilize the latest technology to create innovative protection solutions.
The CISO Global workforce is comprised of cybersecurity experts spanning not only global geographies, but also specialties, industries, regulatory frameworks and focus areas. Its team includes audit and compliance specialists, certified forensics experts, ethical hackers, IEEE® certified biometric professionals, security engineers, around-the-clock analysts, and more – all backed by the most respected credentials in the industry. On an ongoing basis, the company works to identify cyber talent that is culturally aligned and that offers operating leverage through both existing customer revenue and relationships.
CISO Global has invested in enterprise solutions and executive talent to integrate its different organizations into an ecosystem that works together to provide complete cybersecurity through cross-pollination of solutions that begin at the network level and extend through technologies, people, policy, and practices. This ecosystem is intended to foster additional growth opportunities and drive overall recurring revenue. Once engaged, the company strives to become trusted advisors for customers' cybersecurity and compliance demands by providing tailored security solutions based upon their organizational needs.
While cyber resilience requires cycles of continuous improvement, it is a journey that few in the current business and security climate seem to understand. With its deep bench of seasoned experts, CISO Global works to simplify that journey for its growing customer base, straightening out the curves and speeding up the process to resilience along the way.
Cybersecurity is a Culture, Not a Product
Integrating compliance and security, including principles of security by design, CISO Global helps its clients create an organization-wide culture of cybersecurity. Its offerings include audit and compliance, security operations center services, security engineering, virtual Chief Information Security Officer services, incident response, certified forensics, technical assessments and cybersecurity training.
In contrast to the majority of cybersecurity firms that specialize in a specific technology or service, CISO Global seeks to differentiate itself by remaining technology agnostic, focusing on accumulating highly sought-after subject matter experts. CISO Global believes that bringing together a world-class team of technological experts with multi-faceted proficiency in the critical aspects of cybersecurity is key to providing technology agnostic solutions to its clients in a business ecosystem that suffers from a chronic lack of highly skilled professionals.
CISO Global's goal is to create a culture of security and to help quantify, define and capture a return on investment from information technology and cybersecurity spending. Its end-to-end, holistic process covers every aspect of clients' cybersecurity and compliance requirements in an effort to promote greater efficiency and strengthen awareness about the integral role of internal team members in the cybersecurity culture of an organization.
As a result of this strategy, CISO Global customers receive an efficient engagement from a single partner that covers a wide range of their needs – addressing challenges more thoroughly and resolving problems more rapidly when compared to working with a host of vendors.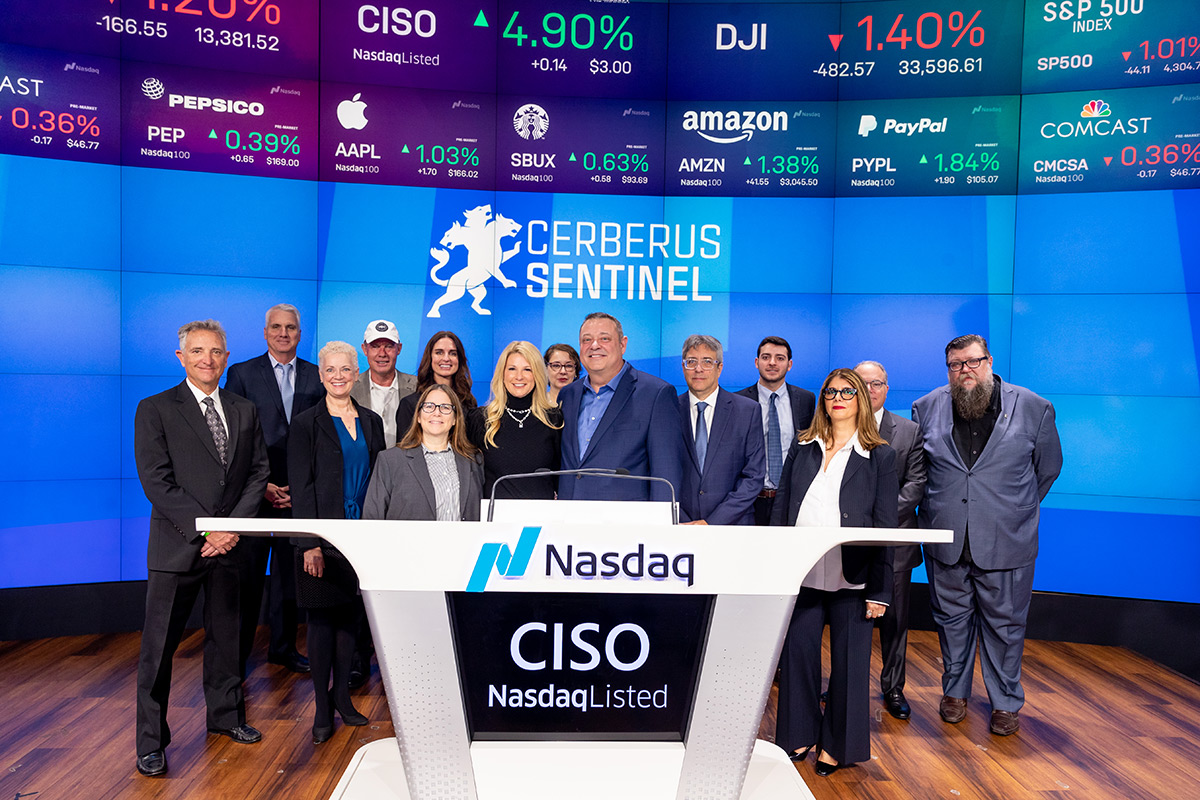 Market Outlook
According to an analysis by the firm Research and Markets, the global managed security services market was valued at $22.45 billion in 2020 and is projected to reach $77.01 billion by 2030, growing at a CAGR of 12.8% through the forecast period.
An expected increase in cybercrime, cost effectiveness of provided solutions and stringent mandatory government regulations aimed at protecting corporate data will drive the global managed security services market for the foreseeable future.
In addition, the documented and growing use of mobile devices in the workplace and the rise in captured and stored digital data serve to fuel market growth. Moreover, growing awareness about the critical nature of data security, the growing importance of e-business and demand for customized services is expected to offer ample opportunities for expansion of the market during the forecast period.
Management Team
David Jemmett is CEO and founder of CISO Global. He has more than 35 years of executive management and technology experience with telecommunications, managed services, and cybersecurity consulting services. He previously held positions as CEO of GenResults, a leading provider of security consulting services and technology solutions, and as CTO and founder at ClearData Networks, a HIPAA-compliant HealthDATA cloud hosting platform.
Dave Bennett is COO at CISO Global. Since 2015, he has served on the President's STEM Advisory Board of Grand Canyon University. Before joining CISO Global, he served as Chief Product Officer at Experian Health and as Senior Vice President, Product for Gainwell Technologies. He has also held positions as Vice President and Worldwide Head of Build, Healthcare and Life Sciences at DXC Technology, and as EVP, Product and Strategy at Orion Health.
Ashley Devoto is President and Chief Information Security Officer at CISO Global. Over the past 17 years, Devoto has worked with the cybersecurity elite to design, build, and operate world-class cybersecurity programs for large, diverse organizations in both government and commercial enterprises. Prior to joining CISO, Devoto served as CISO for Booz Allen Hamilton, as business information security officer (BISO) at Bank of America, and as a cyberspace operations officer in the United States Air Force.
Deb Smith is CFO at CISO Global. Prior to assuming that position, she was the company's EVP, Finance and Accounting. She has also served as SVP, Global Accounting at International Cruise and Excursions Inc., and as Chief Accounting Officer for BeyondTrust, an information security software company. She has also held the positions of Corporate Controller at Aspect Software and Assistant Controller at JDA Software.