Investment Considerations
All Coyuchi products begin with 100% organic fibers and a traceable supply chain.
Coyuchi achieved 26% sales revenue growth in calendar 2021 over 2020.
Coyuchi is profitable and growing; for the year ended December 31, 2021, the company had net income of $1.4 million on sales of $33.3 million.
The overall U.S. market for home textiles is currently worth $25 billion annually, and, with a forecast annual growth rate of 5%, it is expected to reach $30 billion by the end of 2025.
Coyuchi has over 30 years of experience in the sustainable luxury home goods space with a strong brand presence and unique product design.
Coyuchi is the gold standard in sustainable luxury home goods. The company offers sustainably produced luxury organic bedding, sheets, towels, apparel, and other home goods for the environmentally conscious home. With a timeless, coastal-inspired aesthetic, Coyuchi uses only 100% organic cotton materials to manufacture all of its textiles.
The Company was built upon four foundational pillars: protect the planet, innovate circular design, live sustainably, and enrich the community. These guiding principles have proven an effective market strategy. In 2021, Coyuchi earned $33.3 million in net sales, amounting to 26% YoY growth (the industry average is only 5%). It also experienced 2x customer growth to 200,000 active customers, averaging a 35% customer repeat purchase rate.
With a seasoned leadership team, a robust e-commerce shopping experience, and a healthy customer base that drives the fast-growing organic luxury market, Coyuchi is prepared to propel a new phase of growth as the rest of the world finally awakens to sustainability at scale.
A Lucrative Market Ripe for the Taking
The global market for organic bedding, which was estimated at $814.3 million in 2020, is projected to reach $1.1 billion by 2027, growing at a CAGR of 4.9% over that period, according to Research and Markets. More specifically, the domestic organic bedding market is estimated at $240.1 million in 2020, according to Statista. Overall, the U.S. market for home textiles is currently valued at $25 billion annually, and, with a forecast annual growth rate of 5%, it is expected to reach $30 billion by the end of 2025.
Grand View Research reported in 2020 that shifting consumer preference toward high-end lifestyle products is a key factor driving the growth of the organic bedding market. Seventy-four percent of consumers are willing to pay more for sustainable products – a consumer preference that has steadily increased over the last few decades. Millennials especially favor ethical consumption over price when purchasing goods and services, with 83% of millennials reporting that they want the brands they purchase from to align with their beliefs and values (https://ibn.fm/PANNV). With a majority millennial customer base, Coyuchi is poised to capitalize on this trend.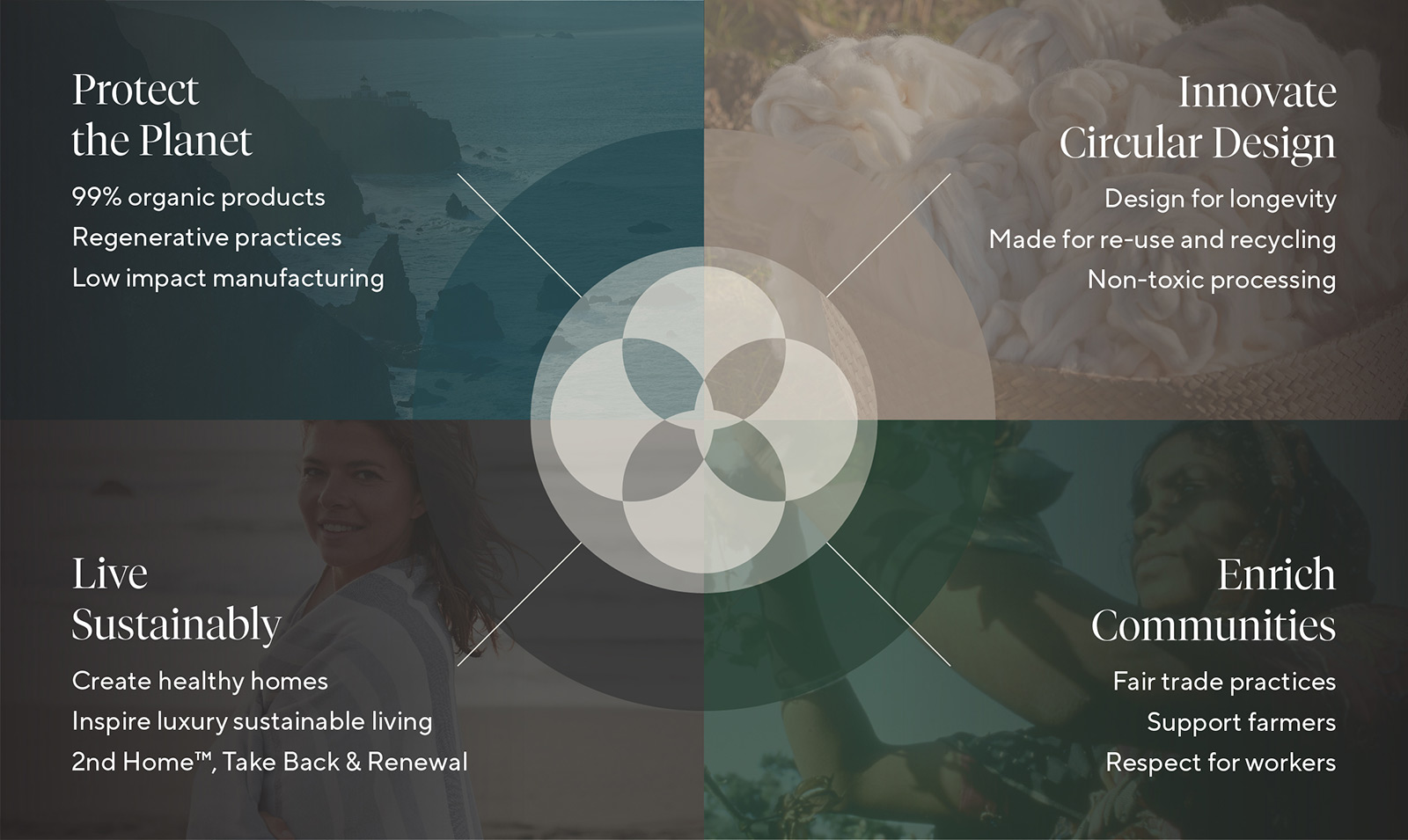 Industry Defining Sustainability Practices
For 30 years, Coyuchi has explored organic farming and sustainable textiles and guarantees the highest environmental and ethical standards through a number of certifications such as The Global Organic Textile Standard (GOTS), Fair Trade Certified, and MADE SAFE®.
Coyuchi continues to push the organic textile market forward through its circularity initiatives and by supporting cross-industry sustainability advocates. Coyuchi's mission to bring beauty and comfort to every home without sacrificing the health of our planet has resulted in a number of important sustainability checks and balances.
A Circular Business Model: Coyuchi has cultivated a holistic 360-degree approach that contributes to the fight against climate change with its take back and recycling program, 2nd Home™. In 2017, it became the first luxury home brand to implement such an initiative, and, since then, the company has eliminated 68,758 lbs. of toxic chemicals from homes and renewed 6,000 lbs. of textiles.
The Coyuchi Climate Council: In early 2022, Coyuchi introduced a cross-disciplinary council with a goal of Net Zero Emissions by 2025 and Net Positive Emissions by 2030. The Coyuchi Climate Council brings together influential minds across fashion, regenerative farming, and sustainability who have the knowledge and experience necessary to achieve climate change.
C4: The California Cotton & Climate Coalition: Most recently, Coyuchi announced it is a founding member of C4, which includes innovative, sustainable fashion, apparel, and personal care brands like MATE the Label, Outerknown, Reformation, and Trace. Working together pre-competitively, C4 creates a structure for investing in regionally grown, Climate Beneficial™ cotton and directly supports the livelihoods of the farmers that grew it. Coyuchi is the only home industry brand currently involved in the project.
Omnichannel Business Model
Coyuchi differentiates itself through an omnichannel and circular business model, both of which have proven a clear draw for customers. It was an early adopter of an e-commerce sales and marketing approach (over 80% of its sales are directly through coyuchi.com), creating a distinct advantage over incumbents and start-up newcomers in the luxury space. This has resulted in a high lifetime value customer, luxury retail partners such as Nordstrom, and a flagship store in Marin County.
Coyuchi's Organic Textile Products
Coyuchi's product assortment consists of consciously designed bedding, bath, apparel, and lifestyle products spread across about 1,400 SKUs. The company believes that its product assortment, produced from 100% organic cotton with Global Organic Textile Standard (GOTS) certification, provides it with a significant competitive advantage. GOTS is the world's leading textile processing standard for organic fibers, ensuring the organic status of textiles after harvesting raw materials through environmentally and socially responsible manufacturing all the way to labeling, a major environmental and social benefit over conventional cotton product production.
Coyuchi's focused product assortment consists of four core categories:
Bedding – A full suite of sustainable, organic, and high-quality sheets, duvet covers, blankets, and throws.
Bath – A luxurious line of towels, bath rugs, and mats.
Apparel – Premium apparel for men and women, including robes, sweaters, pants, and pajamas.
Lifestyle – The lifestyle category offers 135 SKUs, from organic napkins to crossbody totes.
Management Team
Eileen Mockus is President and CEO at Coyuchi. She has more than 25 years of experience in retail, having held positions in textile development at Patagonia, Pottery Barn Teen, and The North Face. She earned a bachelor's degree in textiles and clothing from UC Davis and an MSBA from San Francisco State University.
Sejal Solanki is Chief Marketing Officer at Coyuchi. She previously served as the company's Vice President of E-Commerce. Before joining Coyuchi, she worked at teen clothing giant Charlotte Russe. She oversees the company's digital marketing, site experience, brand marketing, and e-commerce strategy.
Marcus Chung is Coyuchi's COO, overseeing supply chain, sourcing strategy, sustainability, and IT. He previously held positions at notable direct-to-consumer brands Third Love and Stitch Fix, as well as national retailer The Children's Place. He holds a bachelor's degree from Wesleyan University and an MBA from UC Berkeley's Haas School of Business.
Margot Lyons is Director of Sustainability and Sourcing at Coyuchi, where she works with strategic partners to ensure all the company's product sustainability standards are met. She received a master's degree in textiles and clothing from UC Davis.
Use of Proceeds
This round of funding will be used to increase Coyuchi's enterprise value through expanded marketing, product category expansion, continued physical presence, and B2B strategic partnerships with wholesalers, and online marketplaces.
Additional Resources